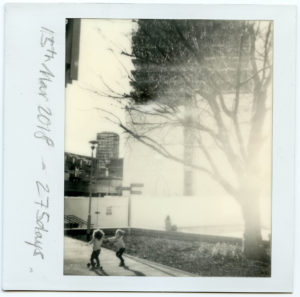 In the early hours of 14th June 2017 I received a text message from my daughter in Leeds. She wanted to know if I was OK because there were reports of a fire near me. I scrambled out of bed and made my way to the balcony outside, onto my bathroom patio. I could not see the tower – just a thick column of foul billowing smoke, shifting slowly side to side. I went instead to the front room and opened the window. What I saw will stay with me forever. The tower – two blocks down from where I am situated on Lancaster Road – seemed to have leapt forwards: alive, burning and pungent – I felt like I could reach out my hand and touch it. The air was full of distant sirens and the chugging of helicopters. Everything had changed.
The Public Inquiry was set up and formally opened on 14 Sep 2017. As expert witnesses are called to assist the inquiry in its deliberations, local residents victims and the displaced are angry that one individual: Sir Martin Moore-Bick has been appointed chairman in what is effectively a single-person panel. Survivors are expressing concern that no one person alone has the expertise or understanding to reflect the diverse backgrounds and the broad experiences of the hundreds of people who lived in Grenfell Tower. The Inquiries Act 2005 takes this into account by allowing a panel, and not just an individual, to oversee inquiries. The Prime Minister, as the minister who established this inquiry, has so far chosen not to exercise these powers of appointing a panel.
"Nine months on from the disaster, and the usual hallmarks of a criminal investigation are absent."
There have been no arrests, no search warrant has been applied for, no one has been interviewed under criminal caution. Meanwhile the tower is being covered by a white tarpaulin (from bottom to top) that will effectively shroud it. I see it every morning and evening and speak with my friends on an almost daily basis about that night.
I am using Polaroid and Instax cameras to produce images. The pictures carry the usual hallmarks of indistinctness, colour shift and texture, and seem to hold time within their surface in a very particular way. While these pictures can be produced in a few short minutes, like answers unforthcoming; they seem to conceal at least as much as they reveal. Polaroid cameras were/are used by the Police extensively at crime scenes to record details, bodies and locations of objects.
As time passes and the media attention waxes and wanes I am attempting to use these photographs as questions or reminders, to mark time. The images are in response to the collective shock of the community who are frustrated and angry that such a preventable tragedy could happen. Now Grenfell Tower stands as a brutal symbol: highlighting the social divisions in one of the richest council boroughs in one of the richest countries in the world.
---